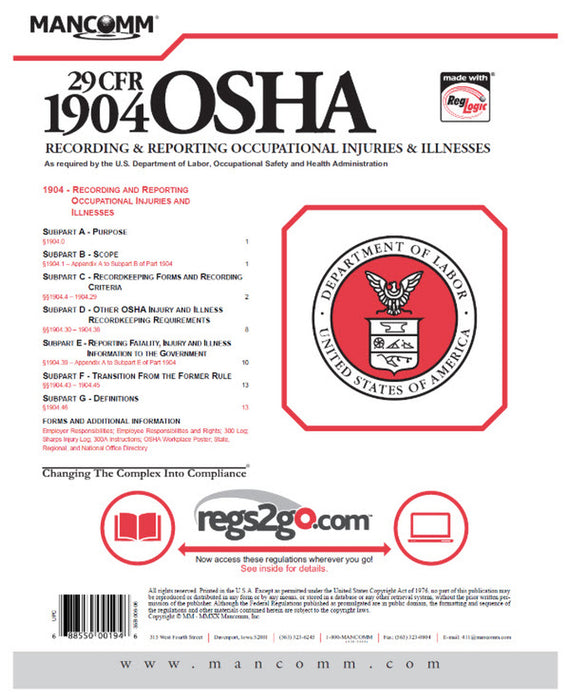 1904 - Recording & Reporting (pkg. of 10)
SKU:
35B-006-09
ISBN:
688550607636
Original price
$49.95
-
Original price
$49.95
OSHA requires employers to record and report work-related fatalities, injuries and illnesses, and these requirements are extremely specific. OSHA stresses that recording or reporting a work-related injury, illness, or fatality does not mean that the employer or employee was at fault; nor does it mean that an OSHA rule was violated, or that the employee is eligible for workers' compensation or other benefits. With so many concerns hanging in the balance, it is important for work-related fatalities, injuries and illnesses to be recorded and reported correctly. Get the facts with Part 1904: Recording & Reporting Occupational Injuries and Illnesses, a 20-page regulatory guide.
This guide is part of Mancomm's Regulations in Focus Series. Safety trainers will find the guides in this series useful and economical. If a trainer is instructing on a particular topic, the guides streamline the process by providing only the needed regulations. These guides serve as ideal instructional material for trainees because they are made with RegLogic CFR™, which takes the difficulty out of reading and using government regulations. RegLogic CFR™ makes it easy for trainees to find and understand vital information.