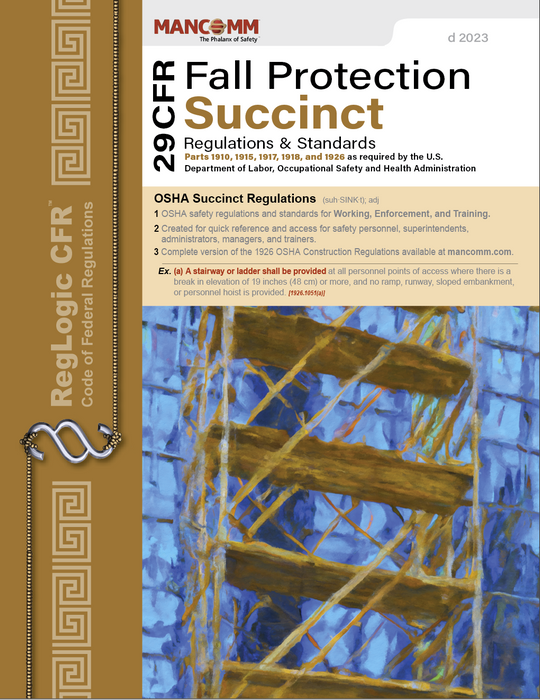 OSHA Fall Protection Succinct Regulations (01/23)
SKU:
36B-001-36
ISBN:
9781663801777
Original price
$36.95
-
Original price
$36.95
Updated Through January 2023 
Fall protection standards are tightening for home builders nationwide, and the key to meeting these tight compliance deadlines lies in a firm commitment to fall protection safety training. Of course, residential construction isn't the only industry that requires this training. It is needed wherever workers must be protected from fall-related accidents. 

To protect your workers and stay compliant with OSHA, Mancomm offers the biggest, most revolutionary development in fall protection since the invention of the safety net: Fall Protection: Complete OSHA Regulations. 
The guide provides fall-protection OSHA regulations from:• 
Part 1910: General Industry

Part 1915: Shipyard Employment

Part 1917: Marine Terminals

Part 1918: Longshoring

Part 1926: Construction

OSHA Letters of Interpretation
Inadequate workplace fall protection can lead to heavy OSHA fines, or worse, employee injuries and deaths. Don't fall short in your safety knowledge. Fall Protection: Complete OSHA Regulations is the most useful book on this topic ever released. 
Book Details:
• 8.5" x 11" softcover book
• Enhanced with RegLogic CFR™
• 140 Pages
• 46 Illustrations
• 45 tables