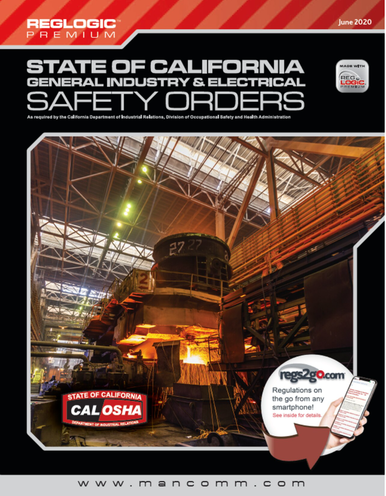 Cal/OSHA General Industry & Electrical Safety Orders (06/20)
SKU:
51B-001-21
ISBN:
9781663800008
Original price
$59.98
-
Original price
$59.98
June 2020 Edition
Have confidence in the safety of your workers with Mancomm's State of California General Industry and Electrical Safety Orders. This is the most Up-To-Date Cal/OSHA General Industry book, it has All regulatory updates through the June 15th 2020—including the new wildfire smoke protection regulations for ALL employers.The book contains all Cal-OSHA General Industry safety orders, as well as a selection of electrical regulations. Formatted with RegLogic CFR™, our reader-friendly approach to regulations, the crucial information provided in the book is easy to understand, allowing you to stay safe and compliant without confusion.
Update Service Available - Learn More!
The book also features:
Selected sections from Chapter 3.2 – California Occupational Safety and Health Regulations

Cal/OSHA Recordkeeping (including Cal/OSHA 300 Log)

Occupational Injury and Illness Reports and Records

Cal/OSHA District Offices Directory

Operating Rules for Industrial Trucks

Safety and Health Protection on the Job

Sharps Injury Log

Quick-Find Index™
Book Details:
• 8.5" x 11" softcover book
• Enhanced with RegLogic
• 848 pages
• 151 illustrations 
• 204 tables 
• 26 forms