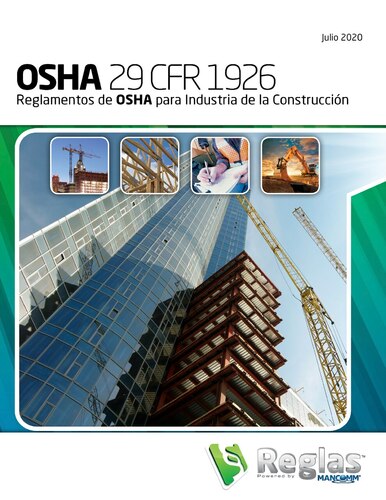 Reglas 1926 (07/20)
SKU:
RP-33B-001-40
ISBN:
9781663800237
Original price
$49.98
-
Original price
$78.98
July 2020 Edition (Spanish)
Make compliance with dense government safety regulations simple with MANCOMM's 29 CFR 1926 OSHA Construction Industry Regulations. Updated through July 2020, the book provides you with a comprehensive set of the most up-to-date Construction regulations. Utilizing MANCOMM's signature formatting approach – RegLogic CFR™ – this edition includes notations for changes within the past year and letters of reference.
Update Service Available - Learn More!
This edition of 29 CFR 1926 OSHA Construction Industry Regulations includes:
fully searchable text throughout the book

letters of interpretation

changes and change history of regulations

This current edition of 29 CFR 1926 OSHA Construction Industry Regulations also includes all of the revisions to both electric power transmission and distribution.
This book also features:
1903 – Inspections, Citations, and Penalties

Part 1904 – Recording and Reporting Occupational Illnesses and Injuries

Selected 1910 General Industry Standards

OSHA Forms 300

Sharps Injury Log

This edition also includes Subpart AA - Confined Spaces
Book Details:
• 8.5" x 11" softcover book
• Enhanced with RegLogic CFR™
• 584 pages
• 174 illustrations 
• 246 tables 
• 39 forms
CD/USB Details:
• Easy navigation bar
• Mark and record favorites
• Fully searchable
• Does not require an internet connection 
• Windows compatible with Windows XP, Vista 7, 8 and 10 with HTML Help
*CD's and USB's not compatible with Apple computers*
Available with Custom Covers! Personalize your purchase of this product with your unique logo and message.
To order custom covers, please call 1-877-MANCOMM (626-2666) or email 411@mancomm.com.